Never walk in dark halls or corners without turning a light on. All my grown kids and grandkids know this rule. This is in place because when a puppy really has to go and no one is paying attention, they choose a quiet place off somewhere, hoping no one will ever know. When you find it, you spank and scold him, spritz the shampoo and promise to do better about watching his take out time.
He has been a member of the family now since January. My rule has worked very well....no dog doo had been stepped in and tracked around. The other member of the family has been here for 51 years, and through 3 puppies. I do not remember any dog doo being stepped in and tracked over all the house ever.
All good things come to and end. Without mentioning any names this person came into the house on a mission, went down a dark hall, and the rest is history, or it will be when the cussing dies down .
The rug shampood back to normal, the dog was traumatized by the yelling and cussing for about 5 minutes, and he may have to find a different emergency place if he does not get our attention.
I can only hope that the "turn on a light in dark halls and corners" will now be absorbed by the only person that apparently did not know it.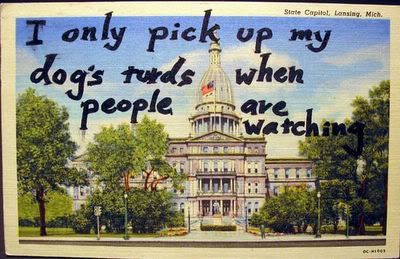 Unless it is in the house...............