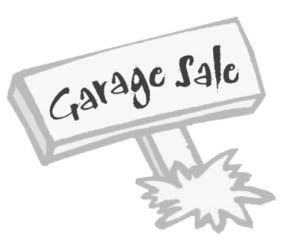 This Sat is the City Wide Garage Sale and we are having one this year. We do not get in it every year, but my daughter, granddaughter and husband have accumulated lot of "stuff", and it is time to get rid of it.
I do not seem to have much to put in one at this time. I have been getting rid of a lot of stuff on Ebay.
Usually when we have a sale Jim drags all the tables out and arranges them, and both of us price. This year I have got a pass. The girls have marked their stuff and Jim has marked his. The girls will be here to work it, so I can just pop in and out and mingle.
Sounds like it will be a good day....well until the money is divided and I do not have any. Maybe I can get Jim to share some of his.