My other half has definetly decided he wants to be cremated...swooshed away immediately for it. Wants no service....just be gone. I knew he decided on cremation a long time ago, but we had not discussed the details til recently. My thinking was he would be returned in an urn for a memorial service. Silly me...he just wants to be gone.
I have always said that I did not want to make plans, as it would give my kids something to keep their minds off of their loss. But I am to much of a control freak to let go completly. I have about decided that I want cremation also. But I would be willing to hang around in my urn for a memorial service with pictures....provided they were some of the better photos, and a couple of songs.
This is my favorite one;
UPDATE, CHANGED MIND, LIKE #2 BEST.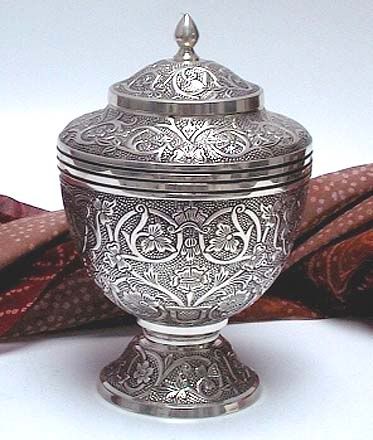 I like this one too, but not as well. We could have matching urns, unless he does not like the same one I do.
UPDATE: LOOKING AT THEM TOGETHER, I LIKE THE ONE BELOW BEST. FILE THIS SOMEWHERE.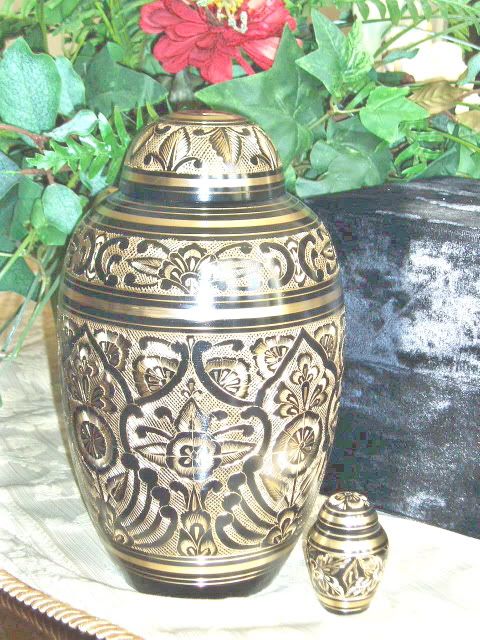 Eventually they would need to be scattered, as I do not think any of my children will want 2 adult and one dog urn sitting around. And by that time, it might be 2 adults and 2 dogs, as Charlie hangs pretty close to Jim.